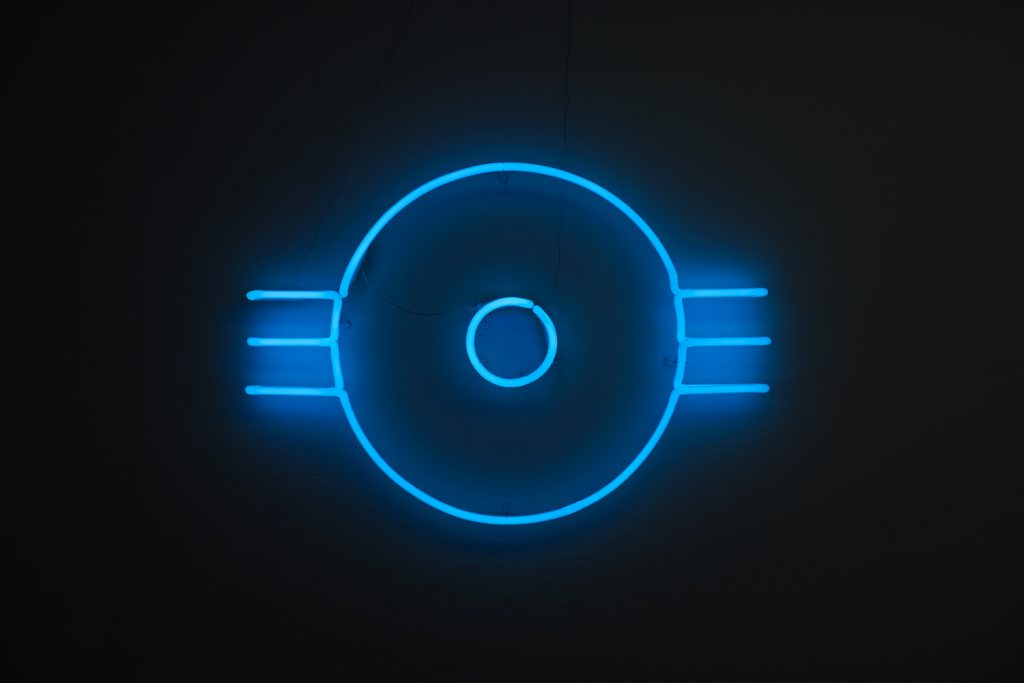 (EN)
"The journey is what happens between suspicion of something and its actual existence."
Gilles Deleuze on Marcel Proust.
Our first sensory contact with reality is superficial. Our sight touches a first plane that is shown to us; objects, their textures and colors show an initial face, even during a greeting, when two hands shake, this first layer – our skin – is the one that welcomes the other.
To stay on the surface is not futile, it is, on the contrary, a gesture that tries to extend the moment of the first encounter, of chance and surprise before the finding.  In this sense, journeys (depending on their length) are superficial experiences since we incidentally touch the preliminary faces of a place, a culture and their inhabitants.
Thus, this first, superficial layer is an extensive territory for experimentation and starting point for, obviously, further doing in depth.
During his stay in Mexico, the artist Jonathan LLense copes with this first impression that Mexican culture leaves not only to its visitors but to all those that watch it from a distance.  Commonplace and recurrent ideas of the cliché are mainly a surface, an initial terrain, where LLense starts the real journey, no longer physical but mental.
DISPONIBLE 553201-8056 exhibition shows the quest of the artist through the "supposedly" known and comfortable field of cliché to reach the complexity that encloses this first relationship with the new found culture.  Leaving for a moment his most familiar means, photography, LLense turns to sculpture so that sight is not the only one to touch that surface, but to allow him to touch it as a creator and make it malleable material.
In his works included in this exhibition, Jonathan LLense intervenes the first layer of skin of the clichés of both "mexicanity "and a European vision.  Given his influence by graffiti, urban art and the situational practice of drifting, LLense broadens his ability to identify a place and discover available space, both physical and psychical – therefore the name of the exhibition – to intervene and recreate surprise.  This available space that LLense finds is just this terrain of everyday constructions.
The engraved agave in the way of a street drawing, is a metaphor for this approach to "mexcanity", superficial but with good humor and familiarity.  In the same way, the molds of the typical hats are nurtured with space, both internal and external, to generate a different surface, marked, real to touch and not only to sight.  The subtle humor of neon referring to childish mental games shows the complex linguistic, visual and conceptual construction of commonplace and the way it works in an everyday mode.
The maneuver, conceptually playful, is completed by the photographic images taken by Jonathan, that in the same mind games semantic makes this skin, membrane or initial surface an area of location.
Deliberately, Jonathan LLense leaves in the title of his exhibition his own phone number, giving in himself to the availability of the environment, of the experience, allowing himself to flow in Mexico.  This gesture is a calculated risk, which is transferred to the knives, (… to the glass and the thorns of agave itself) set as incidence tools that fall over something and penetrate this surface membrane of the first experience, just like the visitor that integrates to the landscape in spite of the strangeness of both.
What happens between the suspicion of something and its existence?  The real journey, says Gilles Deleuze. And it is precisely this vacant space between intuition about something and the experience of it that drives the work of LLense.
Patricia Martín
About DISPONIBLE 553201-8056
México D.F.
September 2014
(ES)
"El viaje es lo que sucede entre la sospecha de algo y su existencia."
Gilles Deleuze sobre Marcel Proust.
Nuestro primer contacto sensorial con la realidad es superficial. Con la mirada tocamos un primer plano que se nos presenta; los objetos, sus texturas y colores, muestran una cara inicial, incluso durante un saludo cuando dos manos se aprietan, esa primera capa – nuestra piel – es la que da la bienvenida al otro.
Mantenerse en la superficie no es fútil, al contrario, es un gesto que intenta prolongar el instante del primer encuentro, del azar y la sorpresa ante el hallazgo. En este sentido, los viajes (dependiendo de su duración) son experiencias superficiales, pues tocamos incidentalmente las preliminares caras de un lugar, de una cultura y sus habitantes.
Así, esa primera capa superficial es un vasto territorio para la experimentación, y un punto de partida para, obviamente, la profundización posterior.
En su estancia en México, el artista Jonathan LLense hace frente a esa primera impresión que la cultura mexicana deja no sólo a sus visitantes sino a todo el que desde lejos la observa. Los lugares comunes y las ideas recurrentes del cliché son principalmente una superficie, un terreno inicial, donde LLense inicia el verdadero viaje, ya no físico sino mental.
La exhibición DISPONIBLE 553201-8056 muestra la exploración del artista a través del campo "supuestamente" conocido y cómodo del cliché para acercarse a la complejidad que encierra esta primera relación con la cultura encontrada. Desprendiéndose de su medio más trabajado, la fotografía, LLense recurre a lo escultórico para que la mirada no sea la única que toque esa superficie, sino tocarla él como creador y hacerla material moldeable.
En las obras incluidas en esta exposición, Jonathan LLense interviene la primera capa de piel de los clichés tanto de la mexicanidad como de la visión europea. Dada su influencia por el grafiti, el arte urbano y la práctica situacionista de la dérive, LLense amplía su habilidad para identificar un spot y descubrir un espacio disponible tanto físico como psíquico – de ahí el nombre de la exposición – para intervenirlo y recrear la sorpresa. El espacio disponible que LLense encuentra es justamente ese territorio de construcciones cotidianas.
El agave tallado a manera de dibujo callejero, metaforiza ese acercamiento a la mexicanidad, superficialpero con humor y familiaridad. Del mismo modo los moldes de los sombreros típicos  se nutren del espacio, ya sea interior o externo, para generar una superficie distinta, marcada, real al tacto y no sólo a la vista. El sutil humor de los neones haciendo referencia a los juegos mentales infantiles denota la compleja construcción lingüística, visual y conceptual de los lugares comunes y cómo operan en la cotidianidad.
La maniobra conceptualmente lúdicaes completada por las imágenes fotográficas tomadas por Jonathan, que en la misma semántica de juego mental, hacen de esa piel, membrana o superficie inicial, una zona de emplazamiento.
Deliberadamente, Jonathan LLense deja en el título de la exposición su propio número telefónico, cediendo también él a la disponibilidad del ambiente, de la experiencia, dejándose ir en México. Este gesto implica un riesgo calculado, el cual se transfiere a los cuchillos, (…al vidrio y las espinas del mismo agave) dispuestos como utensilios de incidencia, que caen sobre algo y penetran esa membrana superficial de la experiencia primera, como el visitante que se integra al paisaje a pesar de la extrañeza de ambos.
¿Qué es lo que sucede entre la sospecha de algo y su existencia? El verdadero viaje, dice Gilles Deleuze, y es justamente ese espacio vacante entre la intuición sobre algo y la experiencia de ello, lo que impulsa la obra de LLense.
Patricia Martín
Acerca de DISPONIBLE 553201-8056
México D.F.
Septiembre 2014
(FR)
"Le voyage, c'est ce qui se produit entre le soupçon qu'on a d'une chose et [la vérification de] son existence."
Gilles Deleuze en référence à Marcel Proust.
Notre premier contact sensoriel avec la réalité est un contact superficiel. Du regard, nous touchons le premier plan qui s'offre à nous : les objets, leurs textures et leurs couleurs présentent un aspect initial. Lorsque deux mains se serrent en signe de salutation, c'est une première couche, notre peau, qui souhaite la bienvenue à l'autre.
Rester à la surface n'est pas un acte futile. Au contraire, c'est un geste qui tente de prolonger l'instant de la première rencontre, du hasard, ou la surprise ressentie devant une découverte. En ce sens, les voyages (selon leur durée) sont des expériences superficielles, car nous touchons incidemment les aspects qu'offrent de prime abord un lieu, une culture et ses habitants.
Cette première couche superficielle est donc un vaste terrain d'expérimentation et le point de départ d'un approfondissement ultérieur.
Durant son séjour au Mexique, l'artiste Jonathan LLense a éprouvé cette première impression que laisse la culture mexicaine non seulement à ses visiteurs mais à tous ceux qui l'observent de loin. Les lieux communs et les idées reçues, les clichés, sont avant tout une surface, un terrain initial où LLense entreprend son véritable voyage, non plus physiquement mais mentalement.
Dans DISPONIBLE 553201-8056, l'artiste explore les clichés qu'on pense généralement faciles et bien connus pour aborder la complexité que renferment ces premiers rapports avec la culture rencontrée. Se détachant du médium qu'il travaille le plus, la photographie, LLense a recours à l'art sculptural pour que le regard ne soit pas le seul à toucher cette surface mais qu'il puisse, lui, le créateur, la toucher et en faire un matériau malléable.
Dans les œuvres ici exposées, Jonathan LLense opère sur la première couche de peau des clichés de la mexicanité mais aussi du regard européen. Influencé par le graffiti, l'art urbain et la pratique situationniste de la dérive, LLense accroît sa capacité à identifier un spot et à découvrir un espace disponible aussi bien physique que psychique pour y opérer et recréer l'effet de surprise. L'espace disponible trouvé par LLense, c'est justement ce territoire de constructions quotidiennes.
L'agave gravé à la manière des dessins de rue est une métaphore de cette approche de la mexicanité, une approche superficielle mais non dépourvue d'humour et de familiarité. De même les moules de sombreros se nourrissent-ils de l'espace, intérieur comme extérieur, pour créer une surface distincte, marquée, réelle au toucher et pas seulement à la vue. L'humour subtil des néons faisant allusion aux devinettes de collégiens dénote la complexe construction linguistique, visuelle et conceptuelle des lieux communs et la façon dont ils opèrent au quotidien.
L'intention conceptuellement ludique est complétée par les photographies de LLense qui, avec cette même idée de jeu, font de cette peau, membrane ou surface initiale une zone d'emplacement.
C'est délibérément que Jonathan LLense inclut dans le titre de l'exposition son numéro de portable, cédant lui aussi à la disponibilité de l'environnement, de l'expérience, se laissant porter par le Mexique. Ce geste implique un risque calculé, qui est transféré aux couteaux (mais aussi au verre et aux épines d'agave), disposés comme des éléments incidents, qui tombent sur quelque chose et pénètrent cette membrane superficielle de l'expérience première, à la manière du visiteur qui s'intègre au paysage malgré leur extranéité.
Que se produit-il entre le soupçon d'une chose et son existence? Le véritable voyage, dit Gilles Deleuze. Et c'est justement cet espace vacant entre l'intuition d'une chose et l'expérience qu'on en fait qui anime l'œuvre de LLense.
Patricia Martín
À propos de DISPONIBLE 553201-8056
México D.F.
Septembre 2014